A mandala art
"White Tara"
15.28″ X 21.68″ (382 mm X 542 mm) a black paper drawn with gel ink ballpoint pens
July 2018 worked
White Tara is the mercy Goddess who was born from tears Kuan Yin laments the people's suffering.
White Tara symbolizes mercy, compassion, unconditional love.
This artwork was drawn as chanting mantra of White Tara for one year.
The white mandala in the middle shows divine mercy White Tara has, surrounded by white lotus flowers.
It was painted over and over again in order to lead us depth of love.
The mandalas in the four corners are motif of lotus leaves White Tara sits.
It was painted by not only green but also pink, to express feminine warmth.
Under the four green mandalas, there are blue mandalas. It means water like lotus bloom from pond.
This mandala art shows White Tara always watches us compassionately.
---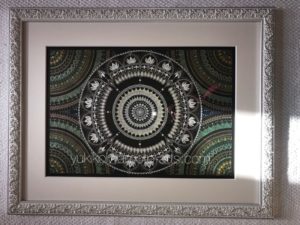 A mandala art (Original)
"White Tara"
ID: 97945392
---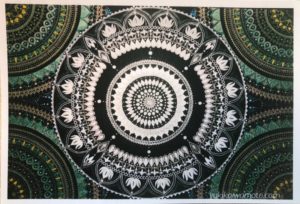 A mandala art postcard
"White Tara"