A mandala art
"Pure Divine Love"
4″ X 4″(10cm X 10cm)  a black paper drawn with gel ink ballpoint pens
February 2017 worked
This artwork was drawn for an ordered owner, who has a beautiful pure heart.
I had a short interview before stated drawing, clarified the intention of this creativity and found the essential beauties of the owner.
We finally recognized its high quality beauty of the owner in the conversation, it's "Harmony".
The owner's heart has loving harmonized beautifully with the others.
As drawing this artwork, I sensed the owner's beautiful heart. The shapes of its sacred beauty gradually showed up into the artwork. It was amazingly beautiful, so that I could not stop crying while drawing.
I painted colors over and over again to express such a beauty heart with lots of prayers, respects, and thankfulness.
As the artwork delivered to the owner,  the owner had moved very much and could not find word soon.
I was very happy and gratitude for this opportunities to draw this very beautiful heart.
---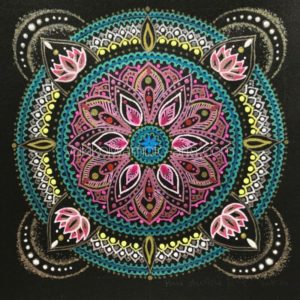 An ordered mandala art (Original)
"Pure Divine Love"
SOLD OUT