A mandala art
"For Mother's Birthday"
6″ X 6″ (15㎝X15cm) a black paper drawn with gel ink ballpoint pens
September 2018 worked
This artwork  was drawn for my mother's 81 years old birthday.
I really wanted to gift my best on her birthday.
Drawn with lots of gratefulness for everything Mother gave me.
Prayers for her good health and long happy life.
I hope we can enjoy our lives together as long as we can.
It's shy to express my loving words.
Instead of it, I hope this artwork brings my true heart to her.
Happy birthday, Mother.
Thank you for your giving birth and raise me up.
Making progress of "For Mother's Birthday". (▼) Sorry this article is written in Japanese only.
https://yukikoiwamoto-arts.com/drawing-rose-mandala-art
---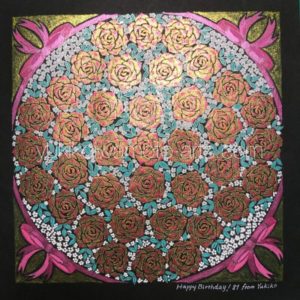 A mandala art (Original)
For Mother's Birthday"
NOT FOR SALE